HAINAN SPENDING MILLIONS TO GET YOU TO COME TO THE  INTERNATIONAL YOUTH FESTIVAL!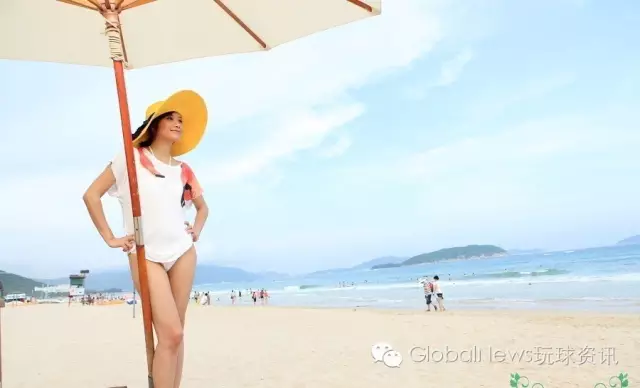 HAINAN PAYING ~2400¥ PER PERSON TO GET YOU TO ATTEND!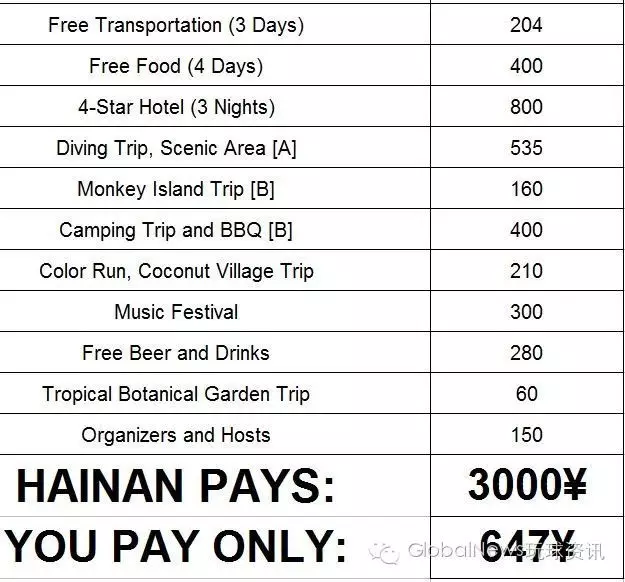 This is some kind of madness, and you would be mad too not to take advantage!
SCAN THE QR TO SIGN UP NOW!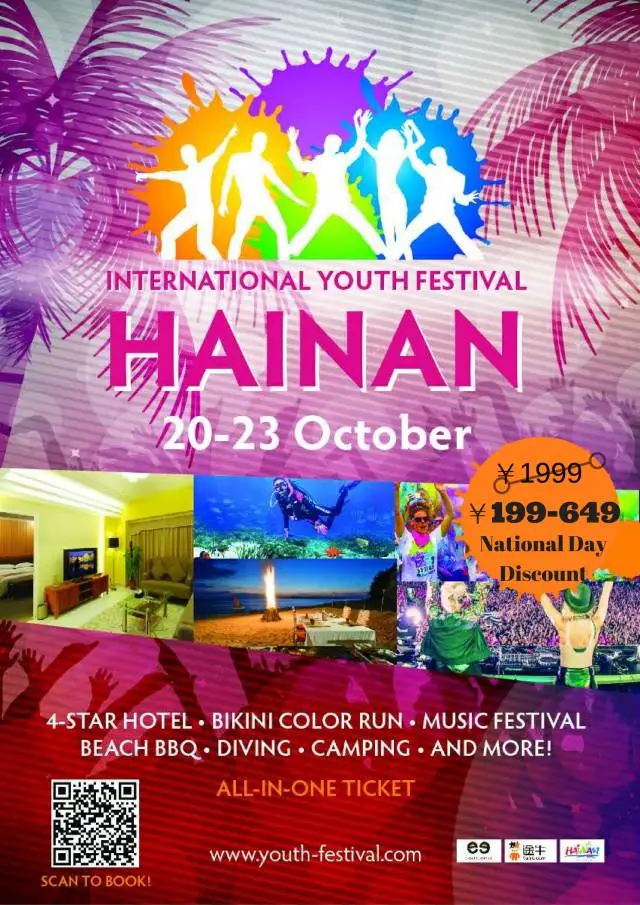 OR ADD WeChat: coolstarconsulting
Expats Express is launching the National Day RMB 649 discounted price for everyone who wants to party in Hainan. It is not a dream but a real 4 Days 3 Nights stay in Hainan for Only RMB 649.1. 4-Star Hotel Accommodation for 4 days 3 nights stay .
1. 4-Star Hotel Accommodation for 4 days 3 nights stay .
2. First night 5 Star Hotel Bikini Pool Party with free drinks!
3. Meals & drinks (include Hainan Specialties, Halal Food, Beers, Buffet,…).
4. All activities Participation (Bikini Beach Color Run, Beach EDM Music Festival, Scuba Diving, Monkeys Islet Visit, Dating Games, Coconut Village Tour, awesome beach camping, BBQ, Buffet Party, Hainan local dance & Music show, Tropical Botanical Garden guided visit….).
5. Fully covered transportation in Hainan: Free Airport pick-up and bus transportation for the whole stay in Hainan.
Please note that this trip doesn't cover air or train tickets from your current city to Haikou.
The National Day Discount is on for Only ¥649 from this September 28th 2016 !
Why you should not miss it?
*Land at Meilan International Airport in Haikou.
*Let our professional guides receive and escort you to the Hotel.
*Enjoy the beautiful Coconut view & sweet wind offered by Haikou town
*Get in your 4 Star Hotel Room.
*Get ready for the Bikini Pool Party in Marriot International Hotel (5 Star close to the Beach) or another secret big event in the evening !
*Enjoy the night (Bikini Pool Party, Good Music & Free Drinks).
*Enjoy your first breakfast in Hainan
Start your journey in Hainan according to your Line of interest (A or B)
Get on bus, start making new friends with people of same Line of interest.
*Head over to Boundary Island.
*Get ready for the International Diving Festival to take place.
*Enjoy the deep see diving experience, change & get some sun tan while relaxing & enjoying the beach, dive again and again until you think it is enough for the day.
*Head over to Lingshui Nanwan Monkey Islet.
*Enjoy watching monkeys performance, take pictures hugging monkeys, understand the beings life & history. The money can swim !
*Enjoy Asia's longest cross-sea cable-car ride.
*Go to secret Romatic Beach (most beautiful one in Hainan), start camping on beach. Enjoy BBQ, sunbathing, swimming, kayaking, surfing, segwaying or enjoying some archery.
*Enjoy the second breakfast in Hainan.
*Get yourself in shape for the Bikini Beach Color Run to take place
*Enjoy some beach games (volley beach, foot beach, Watermelon competition, some beach dance).
*Go and explore the Coconut Village.
*Get back for buffet & the awaited "EDM Music Festival".
*Enjoy the different music, famous band, Hainan local dancing, 10 famous DJs from different cities, fireworks… Get drunk ang get high !
*Enjoy your third and last breakfast in Hainan.
*Get on the bus for the famous and beautiful Tropical Botanical Garden guided visit.
*Oops sad the journey is getting to its end after the lunch. Head back to Haikou Meilan International Airport for your flight back to your city.
Lunch & Dinner & Drinks will be provided EVERYDAY
We would like to acknowledge EVERYONE a new event on our program: 
5 Star Hotel Bikini Pool Party 
This opportunity will be given to the only 
For those who already got their tickets before the event is automatically booked for free as a National Holiday Gift.